CHINAPLAS 2021
The quality of products presents the experiences and techniques a company have. In this grand event of CHINAPLAS, HSIN LONG focuses on Multi-Layer Blown Film Die Heads with Stackable and Spiral Type which brings customers an option to update their machine. Besides, in order to follow the new trend of plastic restriction and government protection, we concern about the issue of biodegradable. As the consultant of blown film extrusion machine, our mission is "Providing the best quality and competitive world-class components to the end users through innovative technology."
Die Head for Multilayer Blown Film Extrusion
HSIN LONG has acquired a vast amount of experience in design and manufacturing Die Heads. We can offer blown film die layers up to 11 with die diameter reach 1.5 meter. In addition, HSIN LONG's Multi-Layers Extruder Die Heads focus on the design of channels, due to the pressure and temperature control that are affected by the plastic film. It combines incompatible polymers in one step, and distribute the polymer melt evenly, in order to make the film thickness uniform. Also, the final products have all the desired properties at a significantly cost to the customer.
Capability of Design and Manufacture :
From 3 Layers up to 11 Layers
Maximum manufacture outside diameter is 1.5 meter
Stackable Type / Spiral Type channel design
Supporting a variety of plastic raw materials
Application :
Packaging Film
Barrier Film for food packaging
Technical Film for high-tech applications
Sealing Film
Medical Film
Shrink and Stretch Film
Features :
Fast heating capability
Reduction of leakage and maintenance issues
Optimal flow distribution and thermal uniformity
Processes various thermal properties simultaneously
Equipped with IBC system to increase production output
Types of Multi-Layer Blown Film Die
Multi-Layer Blown Film Die divides into two types which are stackable and spiral. Both these two types have their characteristics. Regarding to different material, HSIN LONG's Multi-Layers Die Head focus on the design of channels. Stackable type can control the temperature independently. As for Spiral type, it combines incompatible polymers in one step, and distribute the polymer melt evenly, in order to make the film thickness uniform. The form of molten film to flow through the channel is differences as well. The flow path for polymer in Stackable type is goes up layers by layers. For the Spiral type, the polymer goes up straightly through the channel to arrive the adapter which connects to the filter. Depending on different needs, HSIN LONG offers the most suitable Multi-Layers Die Head for customers to meet their requirements.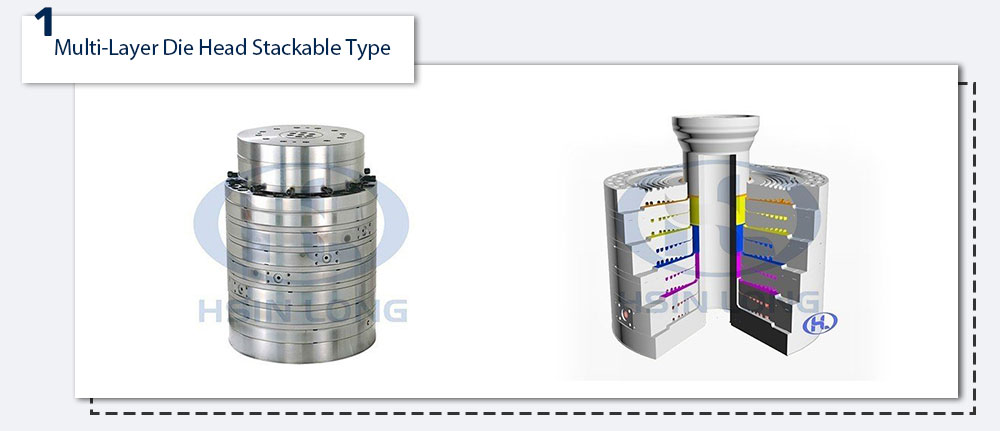 Biodegradable Film Blowing Machine
As the process of market trend and policies, HSIN LONG's technology is constantly innovating. Furthermore, we devote to biodegradable recently. Biodegradable Blown Film Machine can be decomposed in nature and called green materials and be used in the Plastic Film Blowing Machine very simply. Nowadays, as the policies of plastic restrict had implemented in many countries, it becomes an issue you cannot ignore. Using biodegradation will not only protect our planet, but also make more profits for your company. If you want to get more information about Biodegradable Blown Film Machine, please contact us.
Feature :
Uses 100% biodegradable materials
Friendly environment
Increase value of economic
Shorter changeover time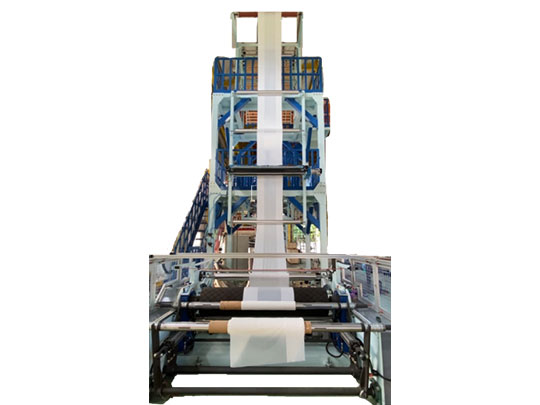 We are sincerely welcome everyone to join this grand event with us. If you have any interest or inquiry in our product, please visit our booth or check our website for Die Head of Multilayer Blown Film Extrusion to get more information.